U.S. Congress
In 2004 I ran for U.S. Congress. This was my campaign website.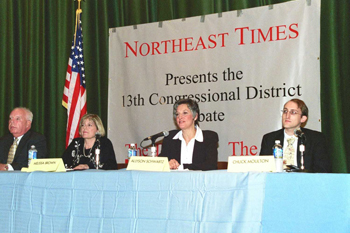 Debating at Abraham Lincoln High School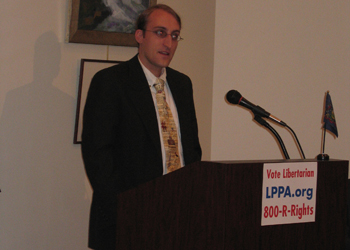 Speaking at the Montgomery County Libertarian Committee candidates forum
District 13
I was 25 years old - the minimum Constitutional requirement for the office - and had just completed my first year of law school. My opponents were Allyson Schwartz (D), Melissa Brown (R), and John McDermott (C). It was an open race because the incumbent (Joe Hoeffel) was running for U.S. Senate against Arlen Specter. Our battleground was Pennsylvania's 13th district (suburban Philadelphia).
With the help of my Libertarian friends I collected 2300 signatures to meet the petition requirement of 1432 valid signatures. I was able to participate in several televised debates with the Democrat and Republican.
Yard Signs
In addition I spent $3,000 on yard signs. My strategy was to highlight issues in the yard signs rather than just building my name brand.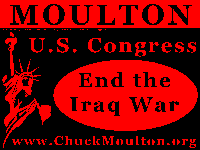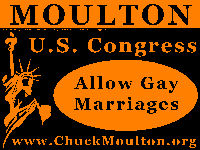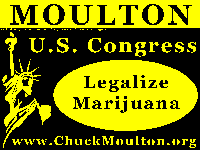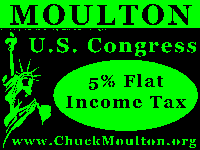 Election Results
Unfortunately I only ended up getting 3800 votes. It was a fun experience though.
13th Congressional District
Candidate
Votes
Percent
Allyson Schwartz (D)
171,763
55.7%
Melissa Brown (R)
127,205
41.3%
John McDermott (C)
5,291
1.7%
Chuck Moulton (L)
3,865
1.3%
I was even beat by the Constitution Party candidate (no doubt because he ran a pro-life campaign against 3 pro-choice opponents). Allyson Schwartz spent $21 per vote. Melissa Brown spent $10 per vote. I spent $1 per vote.
---
© Copyright 2004-2018 Chuck Moulton. All rights reserved.